The rumors are true. Yes, I came down with Covid 10 days before my due date with our fourth. Here I am fully suited up for fetal monitoring at my obstetrician's office. I've had three appointments this way!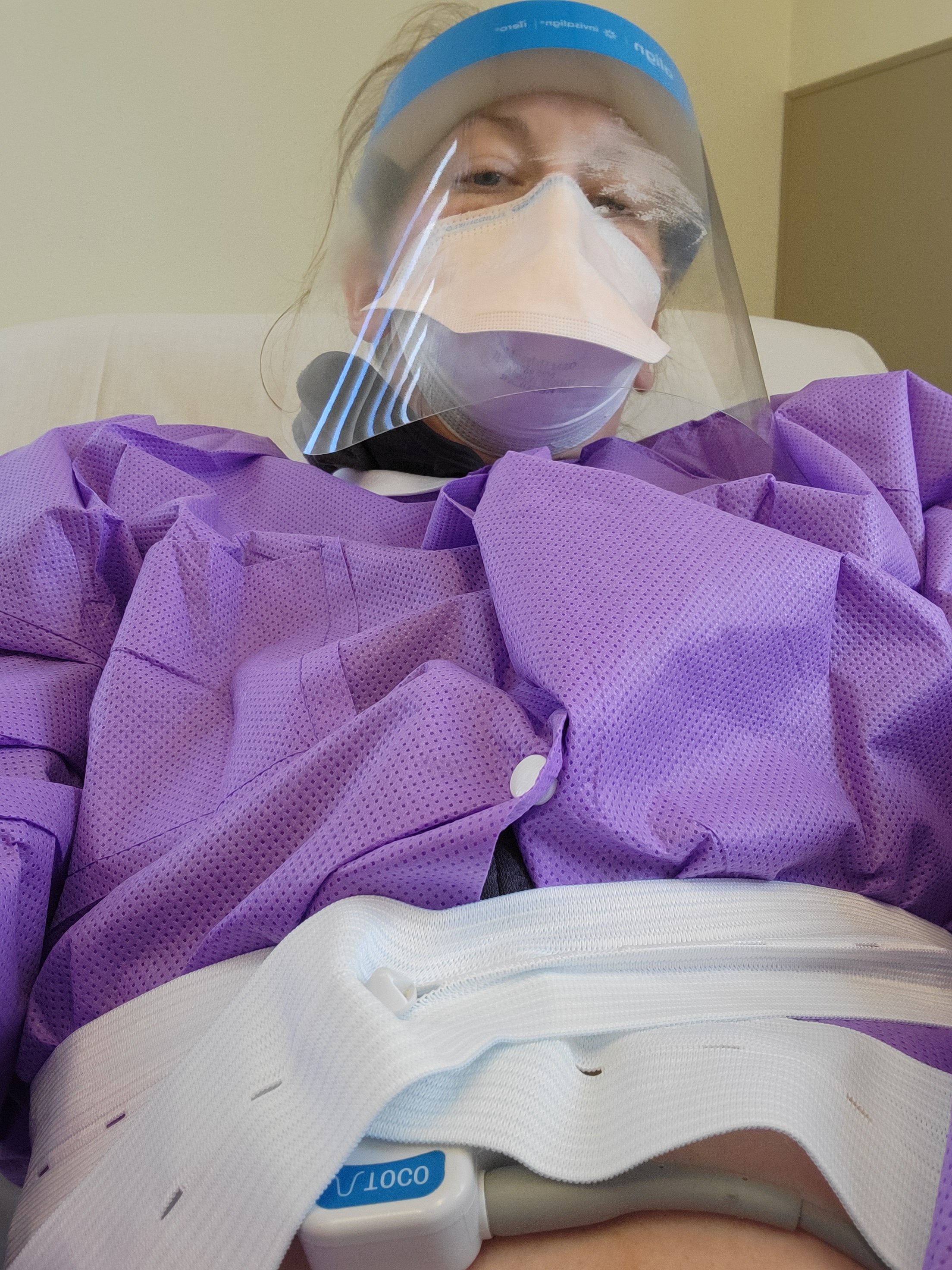 After feeling like I could go into labor since week 35 (lots of contractions, including "real" ones at regular intervals) the baby hunkered down and stayed put. I am now almost over Covid, and officially overdue. And tomorrow my long-suffering nurse/homeschool teacher/housecleaner/breadwinner/meal-maker/ a.k.a. husband will be taking me to the labor and delivery unit for my induction. During this marathon pregnancy with many unexpected turns and uphill climbs, we're almost to the finish line.
Our wonderful friends, family, and church family have been such a blessing. We've received several meals already from our church's women's ministry and from a great friend. Another dear friend ran over a pulse oximeter so I've been able to check my oxygen level throughout my illness. So many people have sent encouraging messages and prayed for us.
God has answered our prayers. My husband and my mother-in-law were fully vaccinated in February and remained symptom-free. Also, all three girls tested negative. I could hardly believe it, but I'm so thankful.
So I was the only Covid-positive household member, or at least, positive with symptoms. The thing about contracting Covid late in pregnancy is that so many of the symptoms overlap. I was already congested, short of breath, and exhausted. Covid just made that all worse. The exhaustion was pretty bad. Even these last couple days I just have to sleep late and nap. I also lost my sense of smell completely for several days. I figured it was a good time to cut out the sugar and eat really healthy. For a few days at least. I'm happy to report that now, day 12, my sense of smell is almost completely back to normal. I feel so fortunate since I know so many don't recover their sense of smell for months.
I do like to hear what treatments others have used, and I'll share what I have been doing:
4,000 units of Vitamin D
Low-dose aspirin
Vitamin C, sometimes a supplement but mostly 3-4 glasses of juice a day
My Young Living lavender oil, which I put directly on my nose and over my sinuses before bed and again when I wake up during the night. I actually had been doing this before Covid due to my pregnancy congestion, and it really helps! My husband even noticed I snore much less when I use it.
Thieves oil (clove, lemon, cinnamon, eucalyptus, cinnamon and rosemary) and Raven (more eucalyptus and lemon, plus camphor) in my diffuser at night, and more Thieves on my feet.
Sitting outside in the sun on these beautiful early spring days.
I've heard zinc is really good, too, but I believe higher doses isn't good during pregnancy, so I stayed away from that.
The most challenging part was mental. As in trying not to worry. It really helped when I finally got ahold of a nurse practitioner in our physician group who works with the Covid-positive pregnant moms. She assured me that having Covid does not increase delivery complications. Our pediatric nurse was equally reassuring that newborns are less susceptible to contracting Covid and if they do, their cases are very mild. And here is a silver lining I never would have thought of: the baby is now receiving–and through nursing will continue to receive–natural Covid antibodies from me!
Another mental hurdle has been letting go of control and accepting that our late-pregnancy and delivery plans were out the window. For example, we had childcare for our three little ones all lined up with our main caregivers, our back-ups, and our back-up back-ups. Covid dismantled our best-laid plans faster than our 7, 5, and 3 year old can demolish the room they now all share. The childcare did need to be sorted out, as I understand bringing three little girls to labor and delivery is frowned upon. (Yes, we do have responsible adults to care for our girls starting tomorrow–my parents. Thanks, Mom and Dad!) Some plans, though, don't need to be put back together again, I realized. They can just lie in pieces like Humpty Dumpty and it dawns on you that no one needed an egg up on a wall anyway.
The most important "treatment" for me has been to keep reading Scripture. Bible passages have taken on a deeper meaning as I cling to them when I wake up in the middle of the night, or work myself into a fit of worry even while the warm spring sun is shining.
When I'm upset about changes in plans: "For I know the plans I have for you," declares the LORD, "plans to prosper you and not to harm you, plans to give you hope and a future" (Jeremiah 29:11).
When I'm worried about the baby (what pregnant mom doesn't worry a little, no matter the pregnancy challenges?): For you created my inmost being, you knit me together in my mother's womb…your eyes saw my unformed body, all the days ordained for me were written in your book, before one of them came to be (Psalm 139:13, 16).
When I'm exhausted: He gives strength to the weary, and increases the power of the weak…those who hope in the LORD will renew their strength. They will soar on wings like eagles, they will run and not grow weary, they will walk and not be faint (Isaiah 40:29, 31).
"For I am the LORD your God. I am the one who is holding on to your right hand. I am the one who says to you, 'Do not fear. I myself am helping you'" (Isaiah 41:13). I don't know exactly what is in store for us tomorrow when I am induced, but I know that I am in very good hands.