My oldest has been back to school for a week, now, and the transition has gone more smoothly than I ever thought—for everyone in the family.
The day before school started, my oldest tried to prepare her younger sisters.  "Can I tell you something?" she asked them as they all snacked on cherry tomatoes. "I'll miss you when I'm at school, and you'll probably miss me, too. But I'll have lots to tell you, so that feeling will go away."
By the next morning, Day 1 of first grade, her sisters had completely forgotten this conversation. "Where's my sister?" asked my youngest, looking over at the empty spot at the breakfast table. "Oh, I know! She's in bed!"
"No, she's not in bed," I said as I poured their breakfast cereal.
"Well, she's around here somewhere!" my middle daughter said.
"We'll have to look for her!" said my youngest.
"Girls, she's at school! Don't you remember?" I showed them the first day pictures my husband had texted me earlier that morning. Then it started to sink in.
I was concerned about the adjustment for all three, after six months playing together every day: "Camping" indoors complete with roasting marshmallows over a homemade campfire…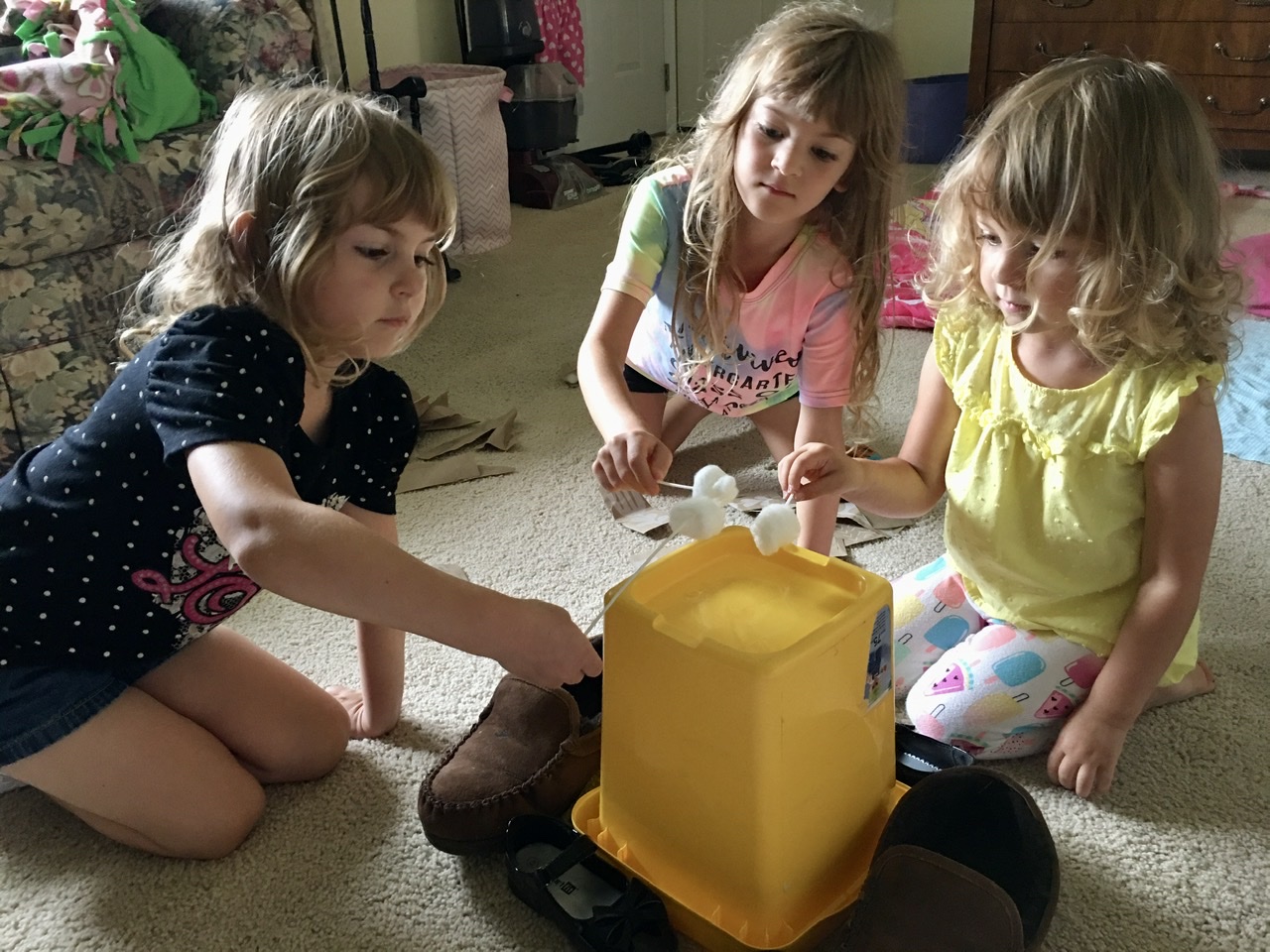 enjoying a luau and other summer fun with special friends…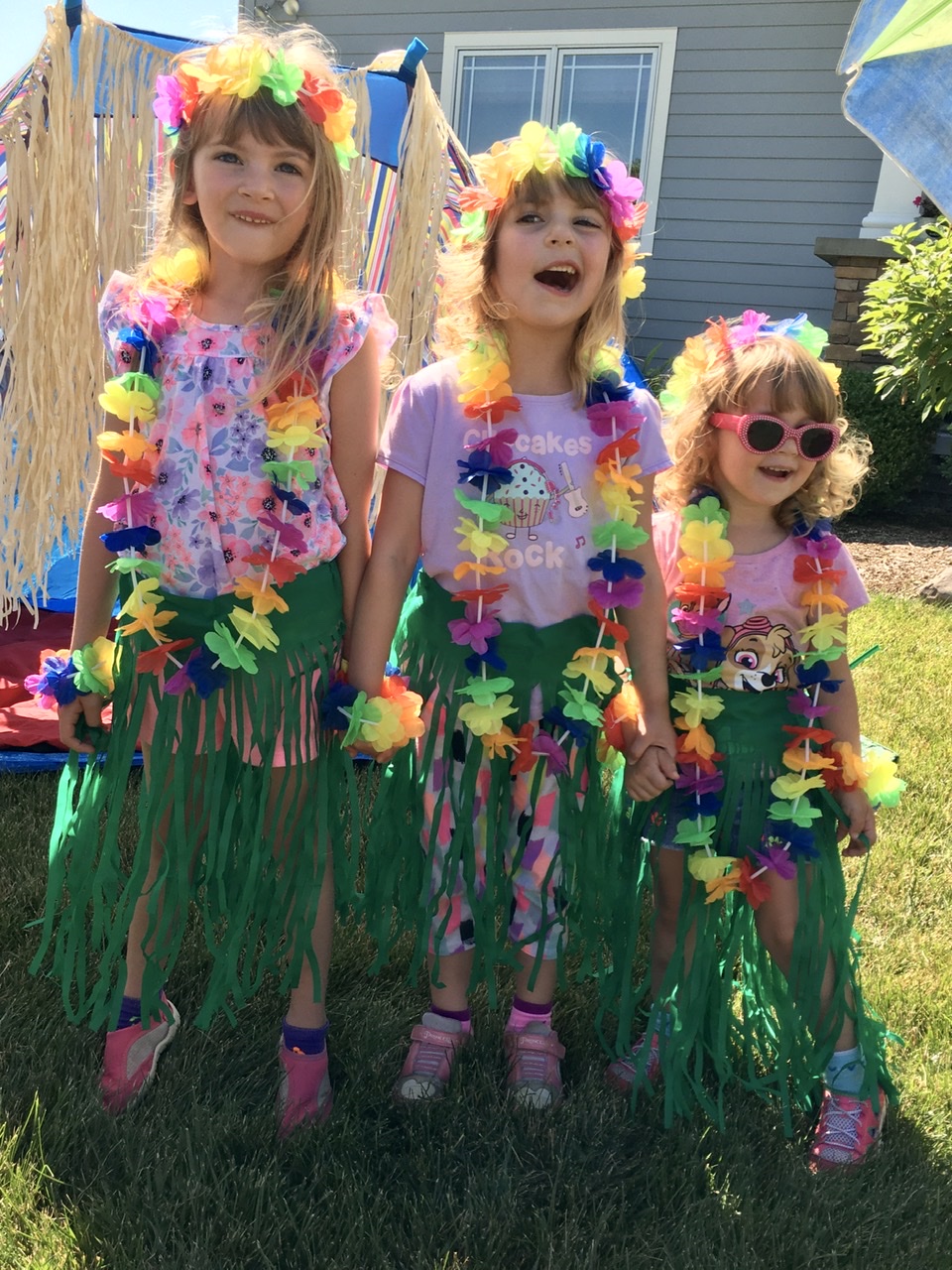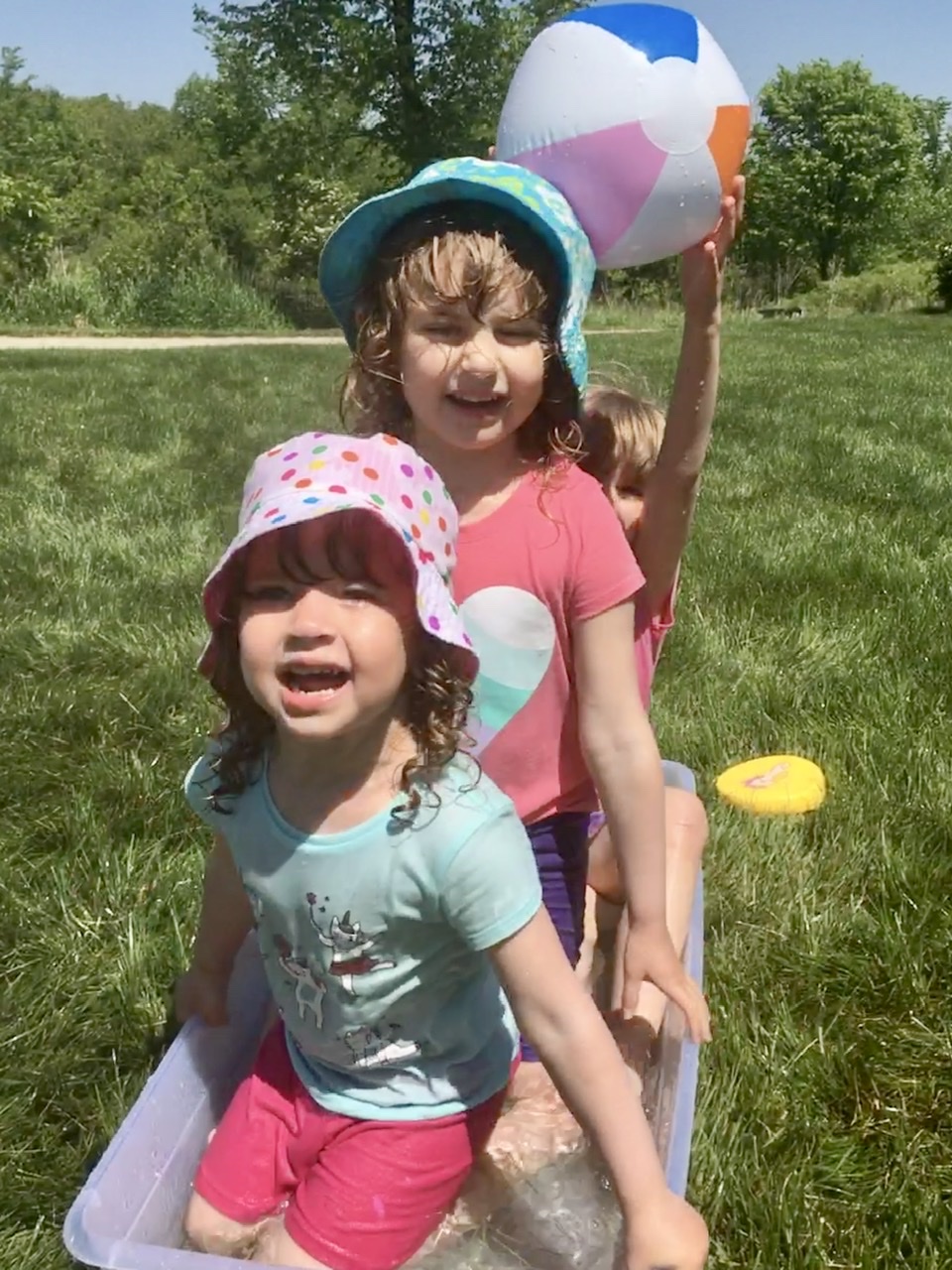 and holding multiple wedding ceremonies uniting various stuffies in matrimony, with flower girls, ring bearers, and gifts.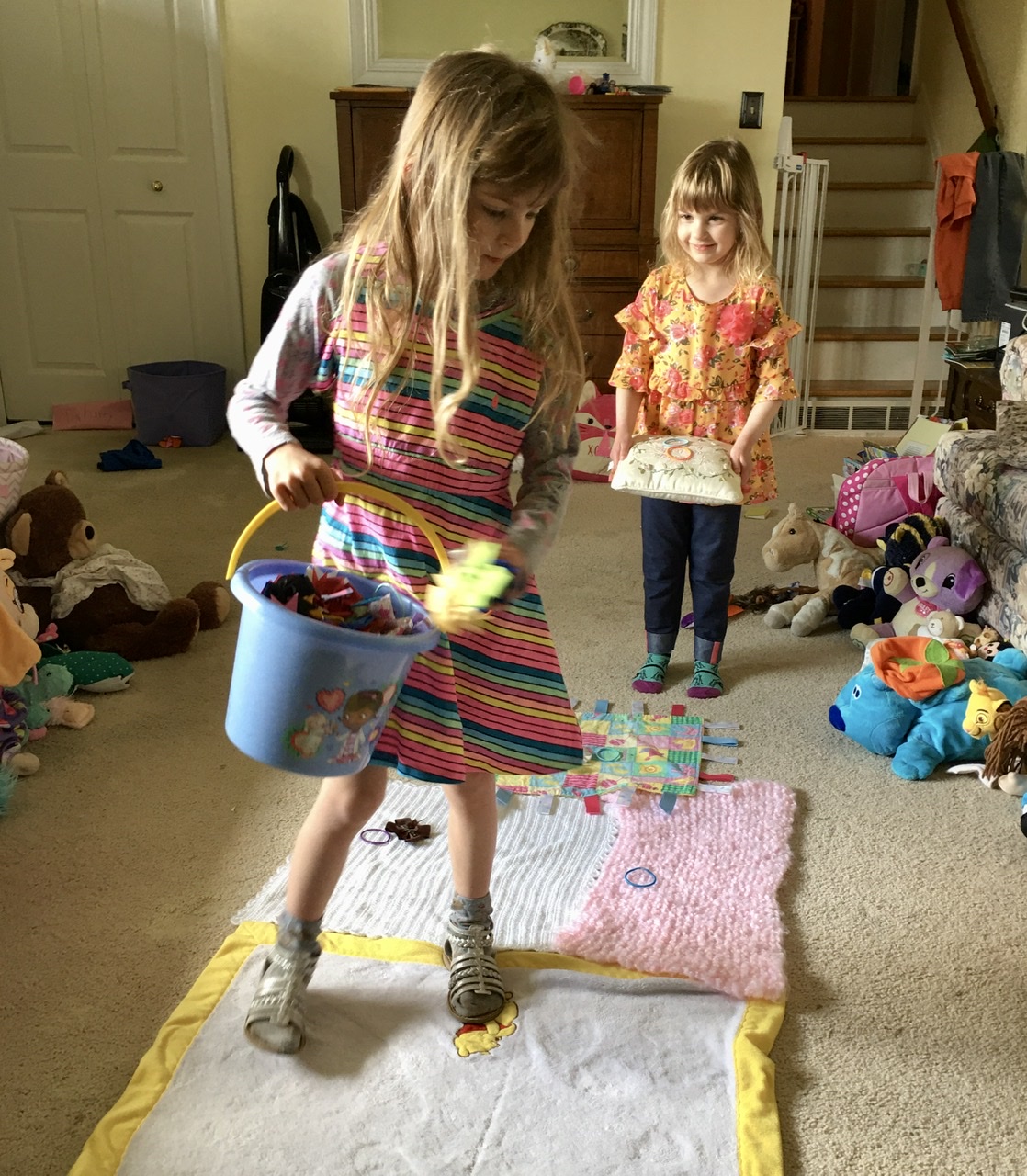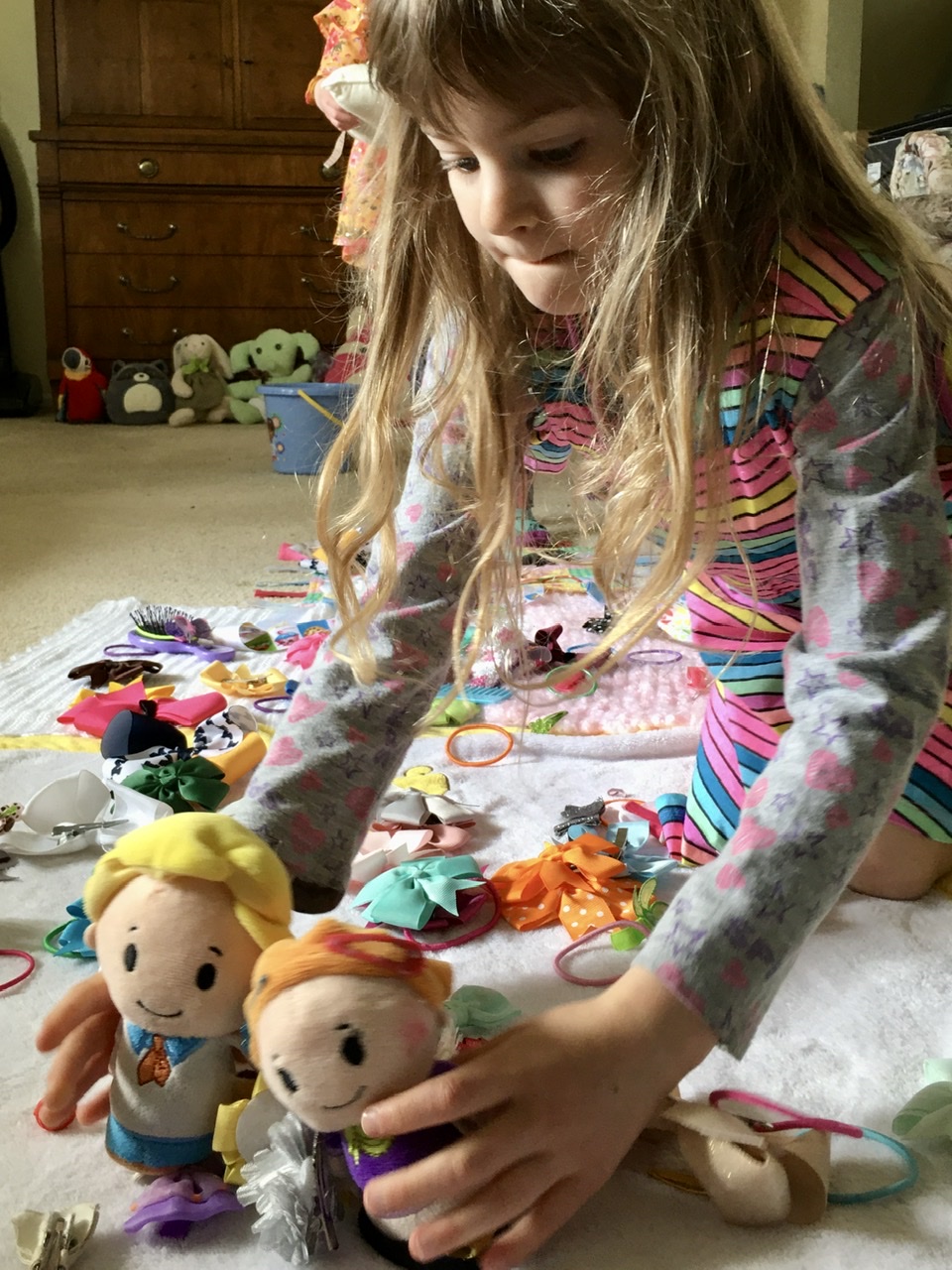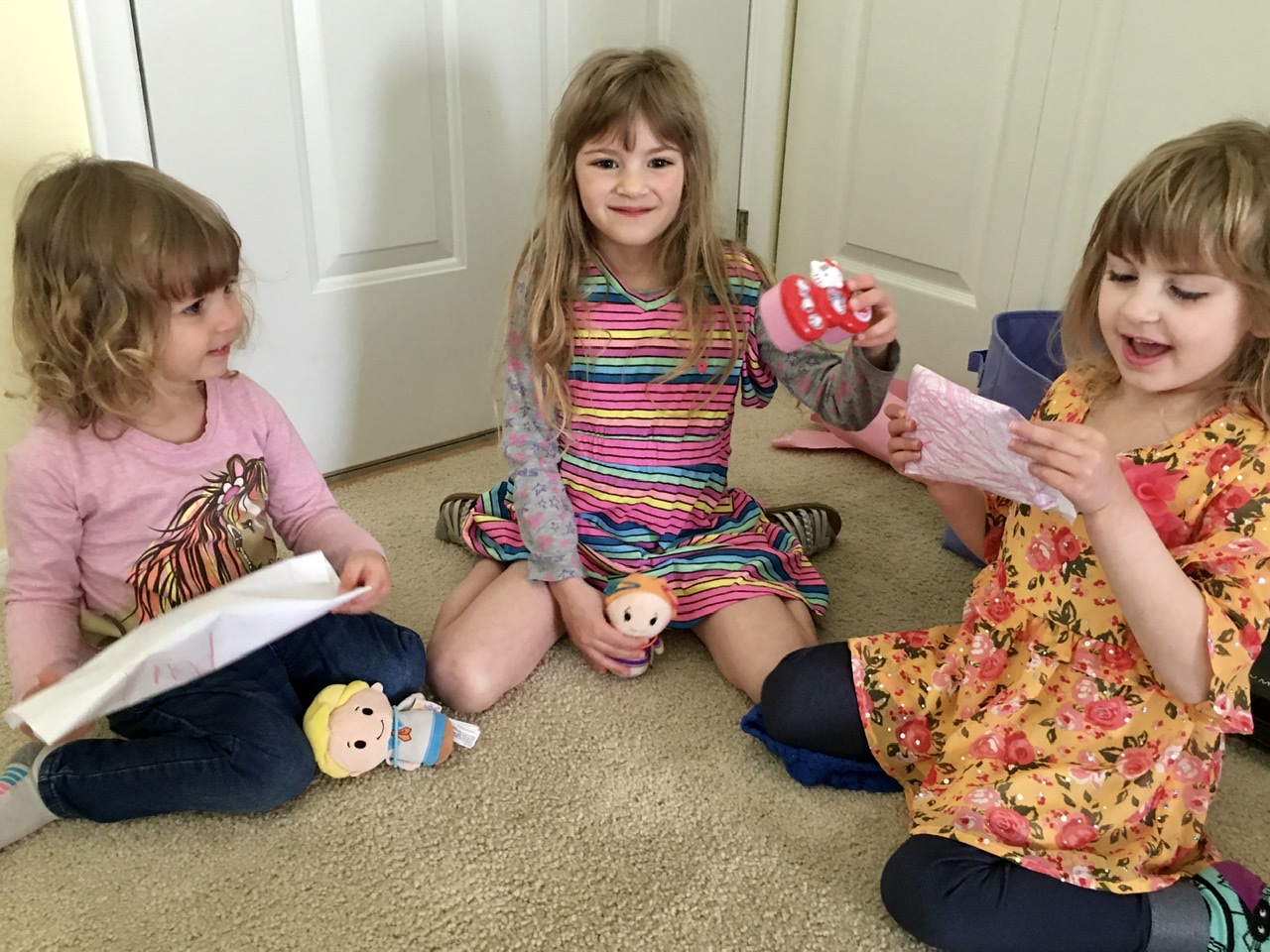 (Yes, Scooby fans will be gratified to know that Fred and Daphne finally tied the knot.)
The first couple days of school, my two youngest asked repeatedly when their sister would be home. By day three, though, they seemed to accept that they would need to make fun on their own.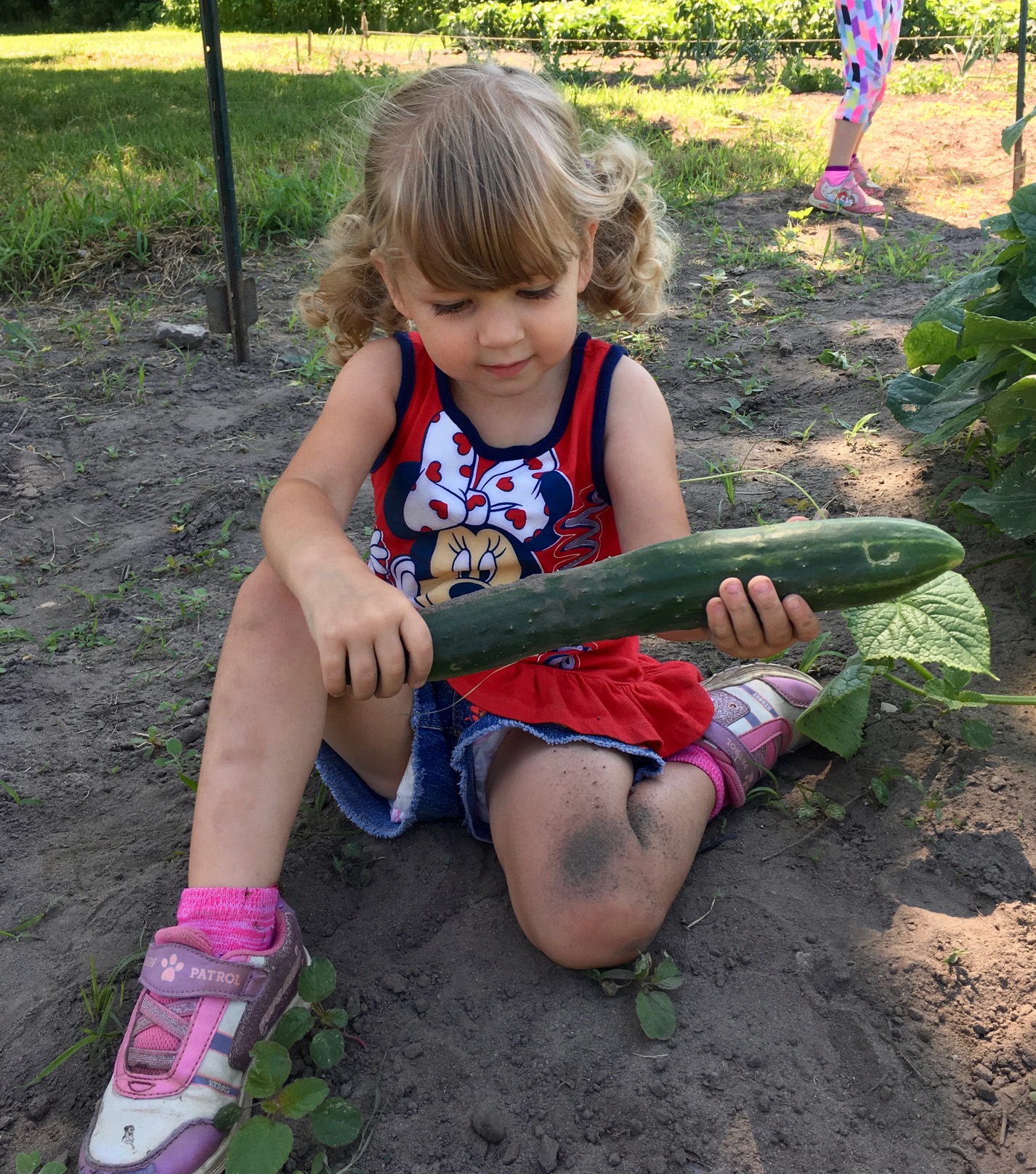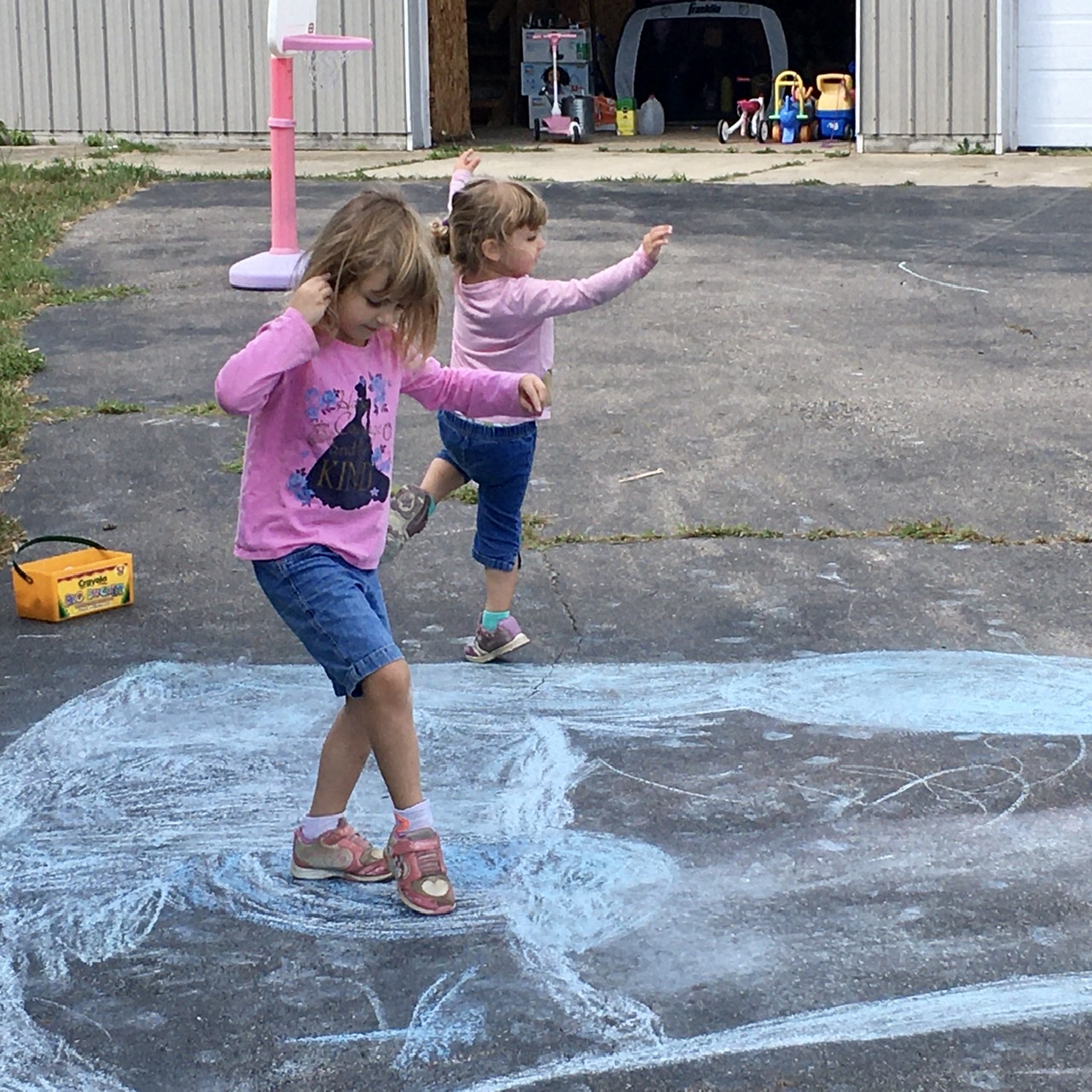 (Here they're practicing their figure skating routines on the "ice rink" that all three made in the driveway earlier this month.)
That feeling of missing each other is going away, just as my oldest predicted.
She herself is having plenty of her own fun at school. The covid-related changes haven't dampened her spirits.
To help myself with this transition, I've decided not to let them dampen Mommy's, either.
Rather than stressing about how different everything feels this year, I'm focusing on the positives.
First of all, I realized my girls are going to stay much healthier this year, God willing. The new safety precautions against Covid—mandated temperature checks at the school entrance, immediate quarantine of any student who develops a cough or runny nose, and other safeguards—will also prevent the flu, random bugs, and most colds from spreading like wildfire. This is huge for me. The girls were sick lots last fall and winter. I spent all of February in the house nursing sick little ones. My husband even dubbed me "Nurse Flo."  The thought that Nurse Flo may not have to come out of retirement this winter puts a smile on my face.
Second, I think we simply don't take education for granted anymore. Every day that my daughter is able to attend school in person is a gift. The tools we now have for distance learning are also gifts. Our teachers and school administrators are real treasures. My husband and I loved our Lutheran school before Covid, but now we feel even more grateful. In a society plagued by entitlement and failure to acknowledge the "ordinary" blessings (like school), I pray that we are communicating to our daughters this sense of gratitude. My oldest gets to go to school. My middle will get to learn remotely through an online young fives program. I get to be their co-teacher and cheerleader. Yes, it's going to be busy and challenging, but I will remain thankful for these blessings.
Third, the experience of starting a new school year in the midst of a pandemic has taught our family greater reliance on the Lord. Didn't we all think last March that by this time everything would be back the way it was? Well, maybe some of you realized it wouldn't. I was not one of the clever ones. Now we are here, at the start of the 2020-2021 school year, and our routines and our comforts have not been restored. Yet our refuge is not in our old routines, the sense of security we used to enjoy, or any "perfect" school or learning method that we could strive to create. Our refuge is in God. Trust in him at all times, you people [we moms, dads, students, and teachers]. Pour out your hearts before him. God is a refuge for us (Psalm 62:8). Learning to go to God as our refuge is the most important lesson of this school year. God is good for giving us the opportunity to grow in it.